Sightseeing Spots
Let's go out in yukata!!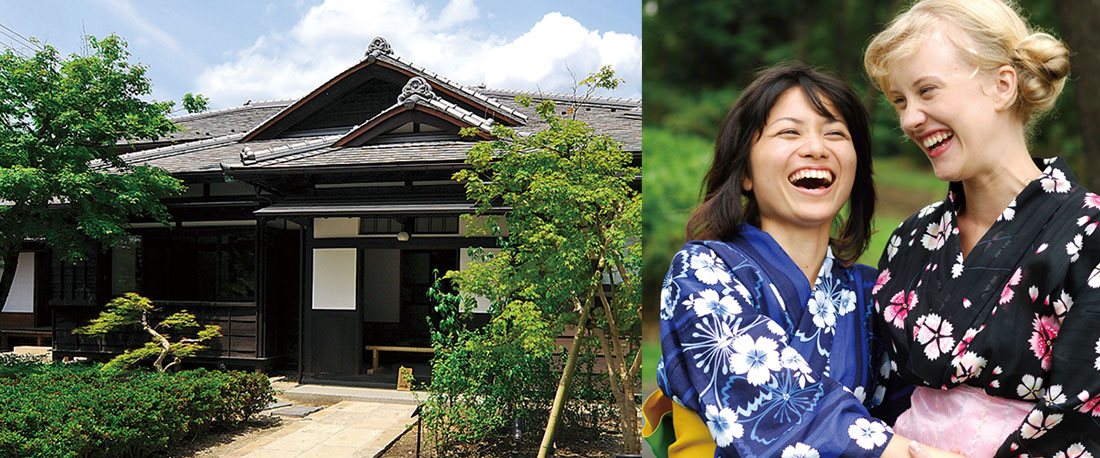 Iizaka Onsen has a rich history, so why not stroll around the town in yukata, immersing yourself in the Japanese spirit. You will experience Iizaka Onsen more deeply and intimately if you visit traditional buildings and shrines from the Edo period in a relaxing yukata.
You'll borrow a yukata. →
Matsushimaya
Kyu Horikiri-tei(Old Horikiri Residence)
旧堀切邸
The residence of a wealthy farmer and merchant named Horikiri, who resided in the area since the 17th century.
The residence has been renovated as a sightseeing spot in recent years, with the main house and warehouse built from the 18th to 19th centuries, and original trees still remaining in the garden. The well and farmers' rest house show us the original way of life back then. Both a footbath and hand bath are available on the premises.
Sabako Shrine
鯖湖神社
The shrine (a Shinto religious facility) with a monument inscribed with "The birthplace of Iizaka Onsen", located next to the public bath, Sabako-Yu. Enshrined here is the Yakushi Nyorai statue, which is believed to heal what ails you if you pray, and pour hot water over the body part you wish to be healed.
Atago Shrine
愛宕神社
The shrine (a Shinto religious facility) located on the top of Atago Mountain. A panoramic view of Iizaka Onsen town can be seen from the end of its steep stone steps. Thousands of azaleas are planted around the shrine, and are in full bloom in May.
Recommended! Iizaka Onsen Master Course – Town Tour-
Estimated duration – about 3 hours
This is a walking course full of attractions, which will enable you to experience Iizaka Onsen's unique history, culture, local food and public baths. Enjoy the onsen atmosphere by taking the tour in yukata! Take photos to remember the trip when you find your favorite spots!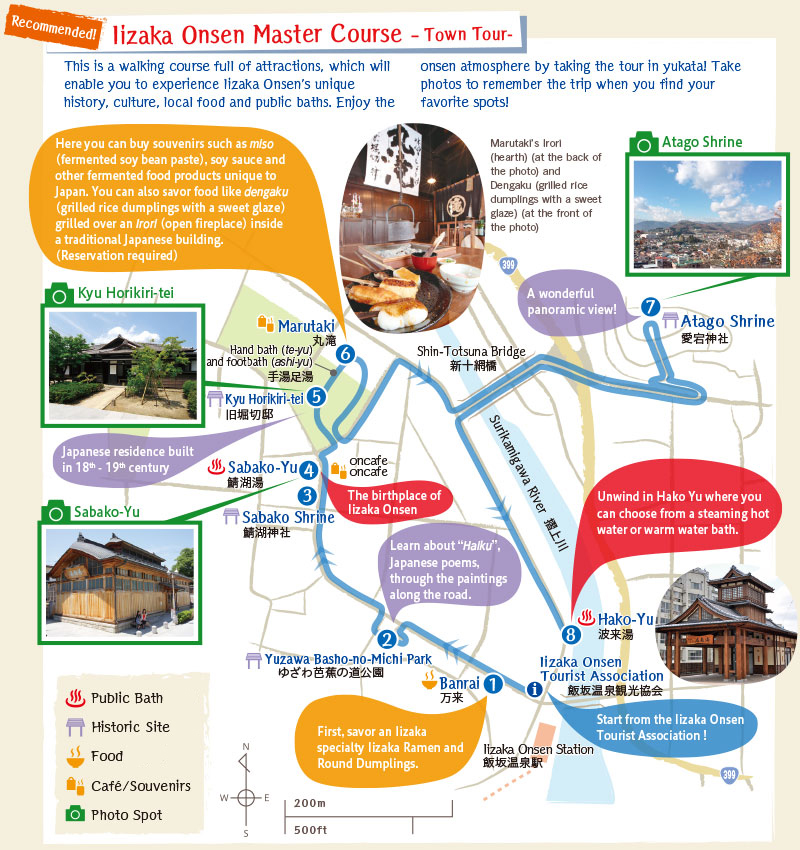 Hanamomo-no-Sato
花ももの里
About 300 Hana peach (hanamomo) trees, collected from all over the world, are planted on the 8000 ㎡ site.
Trees will be in full bloom from early April to May. [Pamphlet]
Taxi
: 15-20 min.(2,000 yen)
Bicycle
: 30-40 min.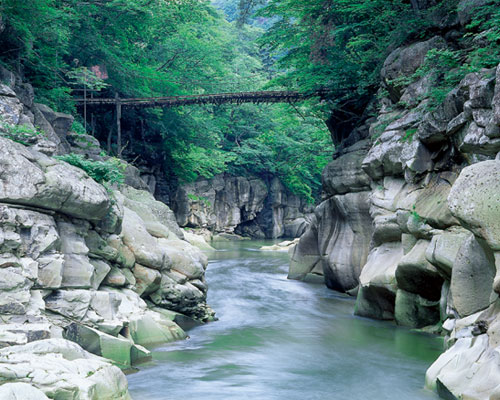 Surikami Keikoku Valley
摺上渓谷
Surikamigawa River runs between sheer cliffs, forming beautiful natural shapes. Many enjoy camping here in Summer.
Taxi
:15 min. (3,000 yen)
Bicycle
: 30 min.
Nakano Fudoson
中野不動尊
With a proud history of over 800 years, this is where Fudoson (a figure worshipped in Buddhism) is enshrined. In the spacious grounds, you can see the beautiful bright red Dainichi-do Hall, a waterfall and caves that can be walked through.
Taxi
: 15 min. (3,000 yen)
Bicycle
: 30 min.
Iohji Temple
医王寺
The temple is associated with Minamoto-no-Yoshitsune, a warlord from the 12th century. It is said that Yoshitsune visited this temple.
Taxi
: 15 min. (2,000 yen)
Bicycle
: 30 min.
User Guide
Taxi
About 2 taxis are normally on stand-by in front of Iizaka Onsen station.
Bicycle
Please ask for bicycle information at Iizaka Onsen Station
You can't use a bicycle on the day when it rains.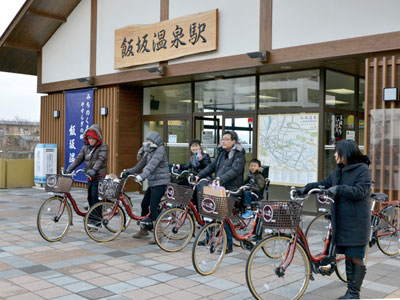 ●Momorin Rent-a-cycle
Hours : 9:00-19:00
Fee : Free
Number of Bicycles Available : 10 (including 1 with a rear seat for a child)
●Fukushima Transport, Electric Rent-a-Cycle
Hours : 9:00-19:00 (open throughout the year)
Rental Time : 4 hours per rental
Fee : 300 yen
Number of Bicycles : Available 10 (including 1 with a rear seat for a child)